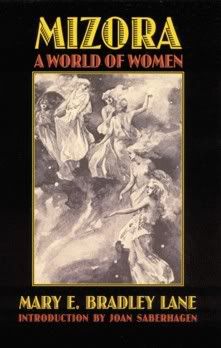 In my continuing endeavors to soak up late nineteenth century utopian and dystopian literature, I've delved into Mary E. Bradley Lane's
Mizora
. This is a feminist utopia originally published serially in the
Cincinnati Commercial
(a newspaper) in 1880-81 and set in the earth's center. Mizora society is exclusively made up of women, who rose to control their government three thousand years ago with a reorganization following a civil war. This was not a war between the sexes but rather a conflict much like the American Civil War, to which this book in several instances seems to be a reaction. There must have been some kind of war between the sexes, but this is glossed over by simply stating that men were disposed of. Besides the feminist aspects of the utopia, the book is largely about education as a solution to humanity's problems (in particular, science and chemistry), a theme that pervades most of the utopian and dystopian works from the period that I've read.
I'm also rereading Donnelly's
Caesar's Column
. I think it's fair to say that this is the author's best work. I do appreciate the fact that Donnelly tried to weave a human story through the novel, rather than just spout out pontifications book-ended by "this is how the main character got to the utopian/distopian society" and "this is how the character left it," which was the case with a great deal of the similar literature from the period. In this way, it's a superior work to Bellamy's
Looking Backward
. The depiction in
Caesar's Column
of bloody revolution is also told with chilling realism, certainly the result of the then recent horrors of the Civil War and also Donnelly's recollection of the Nativist riots in Philadelphia in 1844 when he was a child. While in his writings Donnelly frequently wondered in the marvels of the human spirit, he was at heart a realist, and often a cynic when it came to human nature.